What is MPLS?
Multi Protocol Label Switching (MPLS) is a switching technology that regulates data traffic and packet forwarding in a complex network. A connection-oriented methodology that traverses packets from source to destination node across networks is what it does for fast packet transmission. It has the feature of encompassing packets in the presence different network protocols.
In traditional IP routing, packets undergo analysis at each hop, followed by forwarding decision using network header analysis and then lookup in routing table. In an MPLS network, packets carrying data are assigned with labels on each node and the forwarding decision is totally based on these label headers. This is different from the conventional routing mechanism. Packet header is analyzed only once while they enter the MPLS cloud from then the forwarding decision is 'label-based' that ensures fast packet transmission between local-local and local-remote nodes. For in depth knowledge and familiarity on MPLS switching, find below on MPLS Architecture.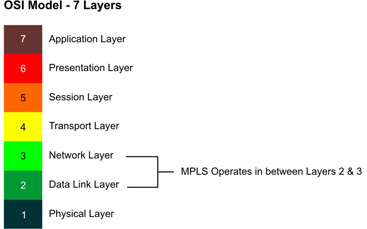 This ensures end-to-end circuits over ANY type of transport medium using ANY network layer protocol. In view of the fact that MPLS supports Internet Protocol revised versions (IPv4 and IPv6), IPX, AppleTalk at Layer3; Ethernet, Token Ring, Fiber Distributed Data Interface (FDDI), Asynchronous Transfer Mode (ATM), Frame Relay, and PPP (Point to Point Protocol) at Layer 2, it is referred as 'Layer 2.5 protocol'.  
The core technology intents to remove protocol-dependency on specific datalink layer technologies such as ATM, Frame Relay, Ethernet, and Synchronous Optical Network (SONET). This avoids the need of multiple layer 2 networks for different types of traffic. It was intended for providing a unified data carrying service for circuit-based and packet switching clients.
MPLS History
The Internet Engineering Task Force (IETF) MPLS working group was formed on 1997 and the first MPLS RFCs had its release on 2001. RFC 3031 specifies MPLS architecture and RFC 3032 specifies its label stack encoding. Label switching allows a device to do the same router operations with performance of ATM switch. ATM switches and label lookups are faster than a conventional IP routing. With advancement in packet switching, MPLS overcomes ATM setbacks with less overhead and connection-oriented services for frames with varying length. This also provides the advantage of maintaining traffic engineering and out-of-band control. Thus Frame Relay and ATM are less in need for installing large-scale networks, as MPLS performance is far superior to previous ones.
Amidst these advantages, there are a few downsides for this label switching technology. First, the management of MPLS is complicated as it is dependent on routing protocols for data transfer. At this instant, any crumples in network can disturb the whole transportation and the redirection of data packets. Initially, the structure of label allows routers to decide and forward IP packets. This was based on label contents instead of a difficult route lookup mechanism based on IP address. With technical progress, Layer 3 switches (ASIC based routers) carry out route lookups at sufficient speed to support interface types.
Solutions

MPLS Virtual Private Network
Virtual Private Network (VPN) is configured on service provider equipment and managed by provider..

MPLS Traffic Engineering (TE)
Traffic engineering refers to the process of selecting LS paths chosen by data traffic in order to..

Hybrid Network Unification
Hybrid Network Unification (HNU) is a cost-effective solution that combines various WAN technologies..